Let's start our topic about how does laser marker working? laser marker also named laser marking machine, laser engraving machine, laser marking equipment, lets take fiber laser marking machine for an example, what's fiber laser marking machine? what it can do?
Fiber laser marking machine consist of laser source, laser head, control board, control software which named EZCAD software, cabinet, computer and monitor, F-theta lens, etc, you can see picture as below: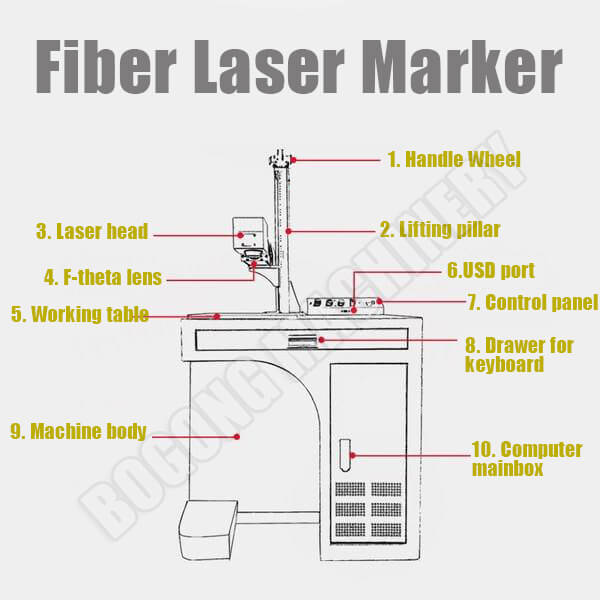 The real picture of Bogong Fiber laser marking machine as blew: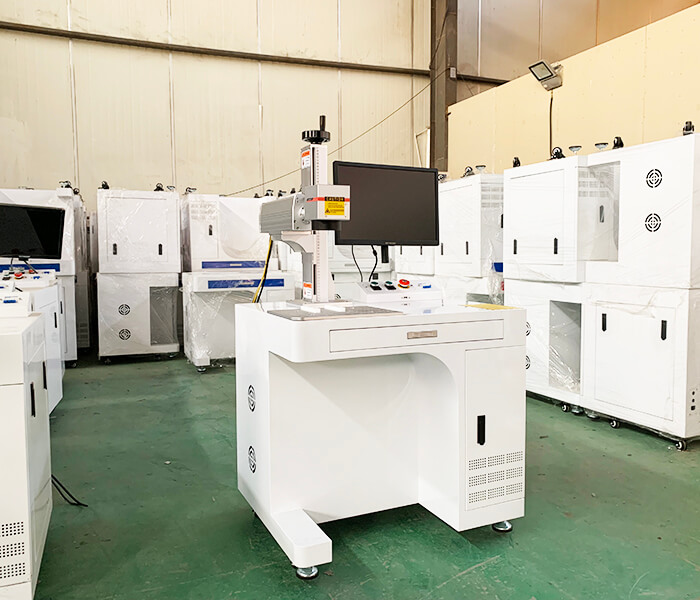 The core parts of laser marker (laser marking machine)is laser source, which will be install inside of machine body(No.9 in above picture), the laser will come out from laser source which control by EZCAD software (which install in computer) and control board (inside of machine body),
after laser come out from laser source, it will arrive at laser head (No.3 in above picture), there have two mirror (X, Y direction)inside of laser head, which will change the direction of laser beam, after that, laser will arrive F-theta lens, F-theta lens control the marking area,
you can see the picture of F-theta lens as below:

You may be ask how big object we can marking? for example, we will marking on Metal and Polymer gun, What every the size of GUN you are using, just make sure the marking content (numbers, logos, letters, etc) less than the scan field, our standard size of F-theta lens is 100*100mm.
that means if you choose 100*100mm lens, the max. size of content that you want put on your gun that need less than 100*100mm. sure you can purchase another F-theta lens, like F-theta lens with 200*200mm lens, pls be sure that only 100*100mm lens can get deep engraving, because 200*200mm lens need more higher focus length, and the diameter of laser spot will bigger than 100*100mm lens, so it's hard to do deep engraving work.
The most important is that laser will only do engraving work when laser on focus, the distance between bottom of F-THETA lens to top of your Gun named focus distance, that means the focus length is fixed after you put the F-theta lens, if you put the 100*100mm lens, the focus length is about 188mm.
If you put 200mm lens on laser machine, you need increase the distance from F-theta lens of laser marker to top of your gun.(how to do it? Rotate the handle wheel on top of lifting pilalr, you will see laser head will move up or down direction)
Mostly we will install extra red light indicator which can help you find focus length easlier, you can see the video as below:
https://www.youtube.com/watch?v=ef6cIWM7Eno just let two laser red dot together.
Where you can input the numbers or letters or design to fiber laser marker? Use computer keyboard to enter the numbers or letters in EZCAD software which will show in monitor of computer,
You can contact with BOGONG MACHINERY to get Demo EZCAD software and it's manual for free. email: sales@bogongcnc.com
Our youtube chanel will help you learn more about laser marking machine, and some operation of laser marking machine
https://www.youtube.com/channel/UClGFCR6S3WOZgjPPAMi-G1w?view_as=subscriber
BOGONG MACHINERY have different type of fiber laser marking machine, such as all-in-one type machine, mini type machine, floor type machine, three machine do same work , just different cabinet and computer, our floor type have computer and monior with laser machine,
mini type and all-in-one type fiber laser marking machine mostly work together with laptop, you can purchase laptop from us, then we will install EZCAD software in this laptop, or you can use your own computer, sure we will send you the EZCAD Program for your laser machine.
Hope the above article can help you learned some knowleadge about fiber laser marker, learn How does a laser marker work?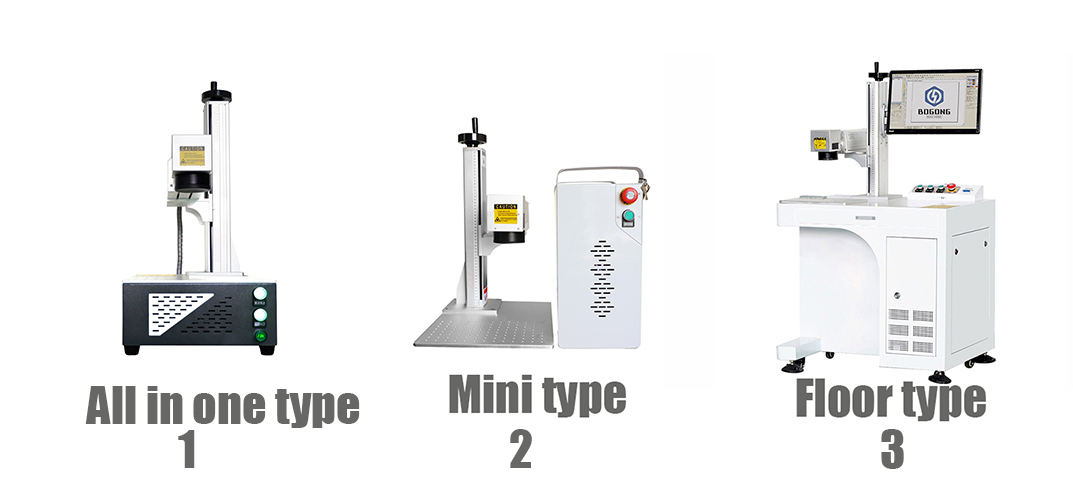 1. All-in-one laser marking machine with smallest size
2. Mini laser marking machine most hot selling type in America and country who want transport by Fedex, DHL to door.
3. Floor type laser marking machine also sold well, because it's a little big size, you can choose by air or by sea, if by fedex to door, just spend a little more FEDEX cost.
How to transport the laser engraving machine, We packaged laser machine with standard plywood box, with 3 layers packags, outside is strong internation plywood box, there have foam outside of laser engraving machine incase of shaking demage, also havve plastic water proof to protect machine, our shipping agent with many experience, and long time cooperation, we can get competitive price, also safety transport.
How to install and operate laser engraving for metal engraving work? how to start an laser machine? how to training?Bogong Machinery provide videos and manual to teach buyer step by step, we can say that our video is the most clear and specific content to ensure all the buyer can learn the machine well, and feel it will more easlier after our support, 100% satisfied by user.
What's the warranty for fiber laser? A: We provide two years machine warranty. During the two-year warranty, in case fiber laser machine exists problem, we will provide parts required with free of charge by express. But as for the parts damaged by artificially, it does not fall within our warranty list. After the warranty, we still provide lifetime service.
What's delivery time? Generally speaking, lead time is 5-7 working days after receive the deposit.
Can we add a protection cover? Yes, we can add a protection cover if you need. We can customize the design as customers' requests.
Is there any technical support in case any machine problem?Yes, for any machine issues, we'll solve the problem through email, skype, phone or video. If the problem still exists, we'll send our technician to customer's plan for machine repair. We'll respond customer's question within two hours
We want to know Quality Control of fiber laser engraving machine, how can you make sure the quality?Bogong Machinery only use famous and high quality components of laser engraving machine, so if you find cheap poor quality machine, so don't waste time on this, skilled and strict inspection team in BOGONG MACHINERY, from meterial purchasing and production process, Test process, 100% according to QC control rule.
OEM service of Fiber laser engraving machine are available, you can tell us what's the color you want, what kind of cabinet you want, or you can put your logo in our laser engraving machine.
No MOQ requirement, We will keep your information, and not shared to any third parties, you can find us even on holiday.
How to order BOGONG fiber laser engraving machine?
You can send 30% deposit by Bank wire, 70% payment before shipment.
Alibaba trade assurance
you can choose shipping by Sea, by Air, or By DHL /FEDEX/UPS
We do believe you will have simple understing how laser marking machine working, if you still exsit some question, feel free to contact Bogong Machinery to learn what How does a laser marker work?
You can get an free price list and detail of laer marking machine after fill your name, company, email detail address, also your detail laser work will be, what's ther material and working are you want, it's better to leave your whatsapp for quick communication, we will shortly send you all the detail and transport, you can also got an demo EZCAD software program from us.
BOGONG MACHINERY ALSO HAVE MOPA LASER MARKING MACHINE, Which marking on color on metal surface, contact with us to get detail information